The Cardiothoracic Surgery Division at Stony Brook University Heart Institute has earned a distinguished three-star rating from The Society of Thoracic Surgeons (STS) for overall patient care and outcomes in isolated coronary artery bypass grafting (CABG or heart bypass surgery) procedures in 2020 (the latest rating). The three-star rating, which denotes the highest category of quality, places Stony Brook University Hospital among the elite in the U.S. and Canada. Stony Brook Heart Institute received two back-to-back three-star ratings from the STS for 2017 and 2018, and now an overall three-star rating for 2020.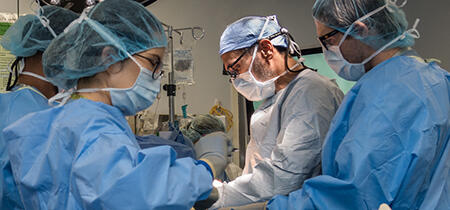 The Heart Institute has consistently received the high-quality rating for heart bypass surgery. For 2020, only 6.1% of hospitals participating in the STS Adult Cardiac Surgery Database received the top STS rating. 
Top-Rated Outcomes and Quality of Care
The STS three-star rating — one of the most sophisticated and highly regarded overall measures of quality in healthcare — that Stony Brook achieved is an "Overall Composite Score" for patient outcomes and quality of care for isolated CABG surgery procedures performed in 2020, the latest STS data analysis. It measures a surgical team's performance before, during and after coronary artery bypass grafting surgery.
"This elite rating is reflective of our entire organization's commitment to quality and safety — from preoperative planning to thorough coordination among multidisciplinary team members — for the optimal outcome for the patient receiving cardiac care," says Margaret McGovern, MD, PhD, Dean for Clinical Affairs and Vice President, Health System Clinical Programs.
"At Stony Brook, we take great pride in our comprehensive heart program that has a long legacy of bringing the highest quality standards to benefit our patients and their families," says Carol Gomes, Chief Executive Office, Stony Brook University Hospital. "And we remain laser-focused on serving our community with the most advanced technology, our outstanding cardiovascular staff and the full spectrum of lifesaving cardiac interventions."

How the Ratings are Determined
To determine the star ratings, the STS collects information from adult cardiac surgery programs that participate in the STS National Database. The public reporting of participants' star ratings is voluntary and demonstrates a commitment to providing ever-improving quality healthcare. More than 95 percent of hospitals in the U.S. with cardiac surgery programs submit data to the STS.
"The three-star rating is a testament to our team's deep dedication to bringing the best in cardiac care to our community and beyond," says Henry J. Tannous, MD, Co-Director, Heart Institute, Chief, Cardiothoracic Surgery and General T.F. Cheng Chair, Cardiothoracic Surgery, Renaissance School of Medicine, Stony Brook University. "Patients can have peace of mind knowing they're getting care from one of the top-rated facilities in the nation."
"The Society of Thoracic Surgeons congratulates STS National Database participants who have received three-star ratings," said David M. Shahian, MD, Chair of the Task Force on Quality Measurement. "Participation in the Database and public reporting demonstrates a commitment to quality improvement in health care delivery and helps provide patients and their families with meaningful information to help them make informed decisions about health care."

Credible, Reliable Information for Patients
Isolated coronary artery bypass graft (CABG) surgery is the most often performed cardiac surgery, but like any open-heart procedure, it requires a high degree of expertise to achieve clinical excellence. STS star ratings of sites enrolled in public reporting provide accurate, unbiased information about the quality and safety of the care provided by different heart surgery providers. It is considered the definitive national reporting system for cardiac surgery.

The Full Spectrum of Quality Cardiac Care
"The STS rating is based on the Division of Cardiothoracic Surgery's experience in coronary artery bypass grafting (CABG) surgery, and we believe that the quality and expertise illustrated by the top rating is reflective of the entire Heart Institute's dedication to excellence in patient care," says Dr. Tannous. In addition to the bypass surgery, Stony Brook surgeons regularly perform the full spectrum of cardiac lifesaving procedures. A few examples include:
TAVR. Stony Brook Heart Institute offers the minimally invasive procedure called transcatheter aortic valve replacement (TAVR) or transcatheter aortic valve implantation (TAVI) for high, intermediate or low-risk patients.
Mitral Valve Repair. Stony Brook is one of the few surgical practices that has specialized experience in mitral valve repair surgeries.
Electrophysiology. The Stony Brook Heart Rhythm Center performs in- and outpatient evaluation and management of all types cardiac arrhythmias.
Cardiac Catheterization. Our specialists handle the most complex procedures on-site, so patients can be treated quickly and made stable without any transport time. Our Advanced Cath/EP Lab is equipped with the latest imaging for greater precision and safety.
Our Stony Brook University Heart Institute cardiothoracic surgeons:

Henry J. Tannous, MD, Co-Director, Stony Brook Heart Institute; Chief, Cardiothoracic Surgery; Surgical Director, Structural Heart Program; and General T.F. Cheng Chair, Cardiothoracic Surgery, Renaissance School of Medicine at Stony Brook University
Jorge M. Balaguer, MD, Associate Chief, Cardiothoracic Surgery; Director, Advanced Coronary Surgery and Director, Hispanic Heart Program
Ankit Dhamija, MD
Sathappan Kumar, MD
Allison J. McLarty, MD, Surgical Director, Ventricular Assist Device (VAD) Program
Jonathan D. Price, MD
The Stony Brook Difference
One of America's 50 Best Hospitals for Cardiac Surgery™, one of America's 100 Best Hospitals for Coronary Intervention™ for seven consecutive years and one of America's 100 Best Hospitals for Cardiac Care™ for eight consecutive years by Healthgrades, the first organization in the country to rate hospital quality based on actual clinical outcomes.
A full cardiac surgery team is available 24/7 for any level of patient care needed — from simple to complex — so the patient can be treated at one place without losing valuable, lifesaving time.
Testing and treatments are delivered by medical faculty physicians, making Stony Brook Medicine the only academic-based facility of its kind in Suffolk County.
Put Your Heart Health First
If you are at risk or if someone in your family has a heart condition, it's important to schedule a visit with a cardiologist for preventive care. Our cardiologists can help you improve your heart health and/or prevent the progression of cardiovascular disease with a comprehensive heart disease risk assessment and treatment options.
Do something good for your own heart health by taking a free heart health assessment now.
For information and appointments