When you see a clinician at the Center for Advanced Lipid (Cholesterol) Management, you will have a full team behind you — starting with a cardiologist who is a board-certified lipidologist — to provide you with in-depth, focused prevention and cholesterol management to meet your optimal health goals. High cholesterol levels can pose serious risks. That's why it's especially important for those with a cholesterol imbalance to be seen by a lipid expert for proper assessment and treatment.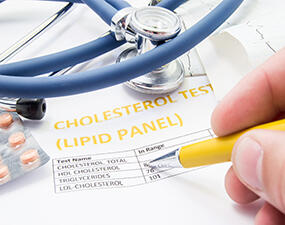 Take control of your cholesterol.
Specialized treatment to:
Prevent cardiovascular disease 
Achieve optimal cholesterol levels 
Reduce risk levels 
"While there are risk factors that are not within our control — such as age or family history — there are many crucial factors that we can influence," said On Chen, MD, Director, Center for Advanced Lipid (Cholesterol) Management. "Even if you already have cardiovascular disease, it's not too late to lower your risk. In fact, an effective lipid-lowering treatment plan can be lifesaving."
The most common reasons to see a lipidologist:
A diagnosis of a cholesterol imbalance
Cardiovascular disease prevention
An existing heart disease condition
You have not reached optimal cholesterol levels with existing treatment
An intolerance or adverse effects to cholesterol-lowering medications
You have certain risk factors for cardiovascular disease, such as high blood pressure, family history or diabetes
Our prevention team — in collaboration with Stony Brook specialists — goes well beyond the basics.
You will be seeing a cardiologist with specialized training and certification through the American Board of Clinical Lipidology, so we are well equipped to help solve even the most complex disorders affecting how a body handles its cholesterol levels.
For some people, adjustments to current cholesterol-lowering medication may be needed due to intolerance, adverse effects or not achieving desired results. For others, traditional cholesterol-lowering medications are not always enough; for these patients, there are a range of options, such as a class of medications known as PCSK91 inhibitors.
Testing is tailored to get a complete understanding of inflammatory markers, lipid profile, apolipoprotein B levels and more. As part of Stony Brook Heart Institute, our advanced cardiac diagnostics in the hands of expert cardiologists can uncover the right plan for you — whether you are looking to prevent cardiac disease or have an existing condition.
Genetic testing can confirm a clinical diagnosis and differentiate it from other causes, identify at-risk family members and aid in treatment option decisions and guide lifestyle modifications to help avoid triggering cardiac events.
Hormones modulate pathways of ipid metabolism, and some endocrine diseases, such as diabetes as the most common, are associated with lipid disorders and can increase cardiovascular risk.
Sleep disorders, such as sleep apnea, may have a negative impact on lipid levels and can increase cardiovascular risk.
"Our goal is to provide earlier diagnosis so that our patients can be proactive and prevent premature heart disease," said Dr. Chen. "As an interventional cardiologist, I treat patients with severe disease and blockages to the heart, and I'd much rather see patients early to be aggressive with prevention. Today, there is so much we can do to get ahead of heart disease."
Leading-Edge Research
Our clinicians are not only involved in the "hands-on" treatment but are actively involved in the science of lipids and the role they play in our health and disease — so that we can be on the forefront of bringing the best-in-class knowledge to our patients and community.
Our Lipidology Experts
On Chen, MD, Interventional Cardiologist and Director, Center for Advanced Lipid (Cholesterol) Management; Director, Outpatient Services; and Director, Cardiac Care Unit (CCU) and Telemetry, is board-certified in clinical lipidology, general cardiology, interventional cardiology, cardiac MRI, nuclear medicine, echocardiography and vascular imaging.
Tahmid Rahman, MD, Cardiologist and Associate Director, Center for Advanced Lipid (Cholesterol) Management and Associate Director, Quality and Safety in Cardiology, is board-certified in clinical lipidology, general cardiology, nuclear medicine and echocardiography.
Sahana Choudhury, AGPCNP-C, MSN, CMSRN, Adult Cardiology Nurse Practitioner. Her expertise includes cardiology, lipidology and vascular imaging.
Practice Locations
Commack
East Setauket
Put Your Heart Health First
If you are at risk or if someone in your family has a heart condition, it's important to schedule a visit with a cardiologist for preventive care. Our cardiologists can help you improve your heart health and/or prevent the progression of cardiovascular disease with a comprehensive heart disease risk assessment and treatment options.
Do something good for your own heart health by taking a free heart health assessment now.
For information and appointments
Call (631) 44-HEART (444-3278) or request an appointment online.