The Heart Institute's Cardiac Catheterization (Cath) and Electrophysiology (EP) Advanced Multifunctional Laboratory brings even more advanced cardiac diagnosis and treatment to the residents of Long Island. The new space consolidates comprehensive cardiac cath and EP services into one shared and efficient increased-capacity location. Cardiac catheterization is used to diagnose and treat certain cardiovascular conditions, and cardiac electrophysiology is used to diagnosis and treat heart rhythm problems, both of which are critical lifesaving interventions.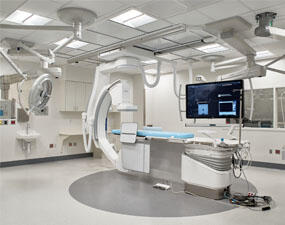 Cath/EP Advanced Multifunctional Lab
Critical lifesaving procedures performed with the latest in cardiac technology 
Latest-generation imaging allows greater precision 
Ultra-low radiation dose levels adds significant safety 
For information and appointments: Call (631) 44-HEART (444-3278)
The Latest Advances in Cardiac Care
In the Multifunctional Cath/EP Lab, Heart Institute physicians can change the scope of a procedure from minimally invasive to more invasive as needed. The large, 845-square-foot laboratory has been carefully designed and outfitted with advanced state-of-the-art angiographic equipment, anesthesia equipment, and electrophysiology technology. Its ample space allows easy accommodation of multidisciplinary teams to execute complex and emergency procedures if needed.
The new Cath/EP Lab is located adjacent to five additional labs — three Cath and two EP — on the main level of the Heart Institute at Stony Brook University Hospital. The five labs will be similarly upgraded, as part of a $19-million renovation project, to bring the Long Island community the latest advances in cardiac technology to further facilitate the care of patients with the most complex conditions.
Greater Precision and Safety
The Lab is equipped with the latest-generation image-guided diagnostic and therapeutic imaging system, the Philips Azurion 7, which provides imaging capabilities at ultra-low radiation dose levels — allowing physicians to conduct complex procedures with greater precision and adding a significant measure of safety for both the patients and medical team.
"You can't beat technology that reduces risks and improves patient outcomes, enabling our cardiovascular clinicians to provide quality care more effectively and efficiently," adds Henry J. Tannous, MD, Co-Director, Stony Brook Heart Institute; Chief, Cardiothoracic Surgery; and General T.F. Cheng Chair, Cardiothoracic Surgery, Renaissance School of Medicine at Stony Brook University. "That is the level of care we strive for at Stony Brook. The new higher-capacity Cath/EP Lab will allow us to expand services in the community and the entire region we serve."
Stony Brook Heart Institute patients are treated at one place without losing valuable, lifesaving time.
Whether it's a suspected heart attack or an abnormal heartbeat, both cardiac catheterization and electrophysiology are essential to helping doctors diagnose and treat cardiovascular (heart) disease.
Elective and emergency Cath/EP Lab procedures are delivered by Stony Brook's nationally-recognized Heart Institute specialists led by Cath Lab Director, Robert T. Pyo, MD, Director, Interventional Cardiology; Medical Director, Structural Heart Program, Associate Professor, Renaissance School of Medicine at Stony Brook University; and EP Lab Director, Eric Rashba, MD, Director, Heart Rhythm Center; Professor of Medicine, Renaissance School of Medicine at Stony Brook University.
The Full Scope of Advanced Cardiac Care
"Our cath labs handle even the most challenging cases, so that patients with severely reduced heart function and those with multiple complex heart conditions can be made stable and treated right here without any transport time," says Dr. Pyo. "Additionally, no asset is more critical to our successful outcomes than our dedicated, skilled and patient-focused doctors, nurses and technicians. I'm so proud to be part of this amazing group."
"With ever-increasing volume demands and case-complexity, the ability to effectively identify and treat arrhythmias is being greatly advanced by the current evolution in EP technology, and no place more than right here at Stony Brook," says Dr. Rashba. "Simply put, our patients have access to the best and latest clinical advances available in the heart rhythm disorders field today."
Heart disease is the number one cause of death for both men and women in the US. With the new facility up and running, physicians in the Advanced Multifunctional Cath/EP Lab can conduct more complex procedures with greater precision, faster access, added safety and ease.
Ability to diagnose and treat the full range of cardiac emergencies without having to first transport the patient if the patient needs more complex cardiac care, minimizing the potential for damage to the heart.

A full cardiac surgery team on-site, 24/7, so should the patient need more complex care, the patient can be treated at one place without losing valuable, lifesaving time.
"Our upgraded technology, together with our expert team of interventional cardiologists, electrophysiologists and cardiac surgeons, offer critical lifesaving procedures for when every minute counts," says Hal A. Skopicki, MD, PhD, Co-Director, Stony Brook Heart Institute; Chief, Cardiology; and Ambassador Charles A. Gargano Chair, Cardiology, Renaissance School of Medicine at Stony Brook University. "Our growing cardiology program continues to raise the bar for cardiac care on Long Island. We are proud to be elevating the care even further by providing our community with the full array of the most comprehensive diagnostics and treatments."
Put Your Heart Health First
If you are at risk or if someone in your family has a heart condition, it's important to schedule a visit with a cardiologist for preventive care. Our cardiologists can help you improve your heart health and/or prevent the progression of cardiovascular disease with a comprehensive heart disease risk assessment and treatment options.
Do something good for your own heart health by taking a free heart health assessment now.
For information and appointments