At the Stony Brook Heart Failure and Cardiomyopathy Center, we recognize that excellent heart failure care involves putting you in control of your condition with the help of your dedicated heart failure team. For many patients, heart failure is a chronic condition that requires long-term, well-managed care with doctors and nurses specially trained to evaluate and treat even the most complex forms of heart failure.
What is Cardiomyopathy?
Cardiomyopathy is any disease of the heart muscle that impairs the ability of the heart to pump normally. Cardiomyopathy may result in heart failure, where the heart can't pump as much blood as the body needs.
What is Heart Failure?
Heart failure means that your heart is not pumping blood through the heart and around the body as well as it should. It does not mean that your heart has stopped or is about to stop. In a healthy heart, the strong muscular walls both squeeze and relax in order to pump blood throughout the body. 
High-Quality Heart Failure Care
Our approach is to work with your primary care physician, cardiologist and other specialists, as needed, to ensure that you receive the best care possible with the goal of minimizing your symptoms and improving your quality of life. Our heart failure specialists at our outpatient Heart Failure and Cardiomyopathy Center in Commack are here to actively manage your heart failure and work with you to put your tailored treatment plan into action. Our outpatient services include:
State-of-the-art testing, including cardiac MRI and 3D imaging, to uncover the cause of your heart failure
Lifestyle education, including diet and exercise plans, to maximize your heart health
Medication management and education
Referrals to nutritionists and cardiac rehabilitation 
Evaluations for pacemakers and defibrillators
Advanced therapies, such as the evaluation and implantation of mechanical assist devices (

left ventricular assist devices

or LVADs) to assist with the pumping function of the heart
Remote monitoring with

CardioMEMS

, an implanted device that allows your healthcare team to monitor pressure round-the-clock to identify problems before they worsen
While our goal is to help prevent your heart failure from worsening and to help prevent unnecessary hospitalizations, our inpatient Heart Failure Consultation Service is available to you 24/7 — working with your cardiologist — to optimize your care.
The Stony Brook Difference
As a patient at the Heart Failure and Cardiomyopathy Center, you benefit by having the expertise of heart specialists at Stony Brook Heart Institute who collaborate to bring you advanced cardiac care. The Center is widely recognized for our commitment to our patients, as evidenced by the Advanced Certification Award in Heart Failure from The Joint Commission since 2011 and the Get With The Guidelines® — Heart Failure Gold Plus Quality Achievement Award from the American Heart Association for the fifth consecutive year.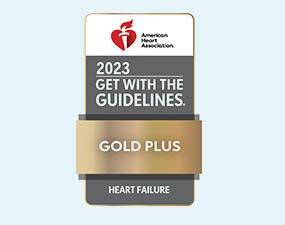 Your Heart Failure Team
Our team offers decades of training and experience, insight from cutting-edge research, state-of-the-art facilities, and a patient-focused environment to provide you with superior outcomes and a positive patient experience.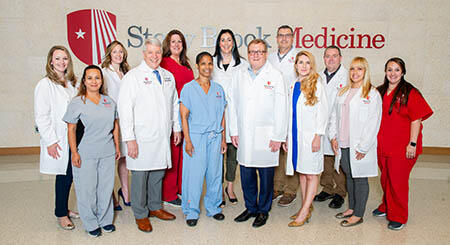 Hal Skopicki, MD, PhD, Co-Director, Stony Brook Heart Institute and Chief, Cardiology
Marc Goldschmidt, MD, Director, Heart Failure and Cardiomyopathy Center and Medical Director, VAD Program
Edlira Tam, DO, Associate Director, VAD Program
Kristine Hanni Jang, MD, Co-Director, Cardio-Oncology Program
Ashley Dunscomb, Associate Director of Nursing, Non-Invasive Cardiology
Caitlin Borriello, NP
Lauren Pilato, NP
Kelly Bull, RN
Melissa Goldstein, RN
Monica Fox, RN
Nancy Utano, RN
Lauren Weiss, RN
Daphne Caceres-Paladino, Heart Failure and VAD Program Administrative Assistant
We are located at:
Heart Failure and Cardiomyopathy Center
500 Commack Road, Suite 203
Commack, NY 11725

Appointments
Call (631) 44-HEART (444-3278) to make an appointment with one of our heart failure specialists. For physicians, our fax number is (631) 444-9621.