Stony Brook University Hospital received the 2023 American Heart Association's Get With The Guidelines®-Heart Failure Gold Plus quality achievement award.
The award — received for the fifth consecutive year — recognizes the hospital's commitment to improving outcomes for patients with heart failure, meaning reduced readmissions and more healthy days at home.
Heart Failure Program Locations
Stony Brook
Commack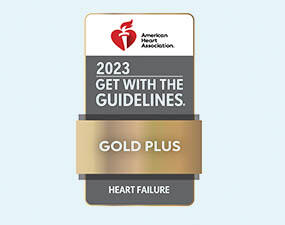 Heart Failure Gold Plus Achievement Award
• Top rated for five consecutive years
• Quality heart failure management
• Improving care and patient outcomes 
• Helping patients live healthier lives
About Get With The Guidelines 
The Get With The Guidelines - Heart Failure quality achievement award is earned by hospitals that demonstrate a commitment to treating patients according to the most up-to-date guidelines as outlined by the American Heart Association. Get With The Guidelines puts the expertise of the American Heart Association to work for hospitals nationwide, helping ensure patient care is aligned with the latest research- and evidence-based guidelines.  
Improving Patient Outcomes
"The award is a reflection of Stony Brook University Hospital's steadfast commitment to excellence in heart failure care," said Marc Goldschmidt, MD, Director, Heart Failure and Cardiomyopathy Center and Medical Director, Ventricular Assist Device (VAD) Program. 

Michelle Bloom, MD, Director, Outpatient Heart Failure and Cardiomyopathy Program, added "Comprehensive care of our patients with heart failure requires an entire team including specialized nurses, nurse practitioners, coordinators, physicians and researchers who not only diagnose advanced cardiology disease but are experts at determining its cause and providing cutting-edge care."
"Research has shown that by adhering to clinical measures through the Get With The Guidelines quality improvement initiative, we can often see fewer readmissions and lower mortality rates," added Edlira Tam, DO, Associate Director, VAD Program.
"Being part of this initiative means that we continuously track our success in meeting evidenced-based clinical guidelines — all with the ultimate goal of delivering optimal outcomes for our patients," said Hal Skopicki, MD, PhD, Co-Director, Stony Brook Heart Institute; Chief, Cardiology and Ambassador Charles A. Gargano Chair, Renaissance School of Medicine at Stony Brook University. 
According to the American Heart Association, more than 6.5 million adults in the United States are living with heart failure. Many patients with heart failure can lead a full, enjoyable life when their condition is managed with proper medications or devices and with healthy lifestyle changes. Despite the name, HF doesn't mean that the heart has stopped working – it means the heart is having a hard time pumping blood and oxygen throughout the body. While there's no cure for HF, patients can live a quality life by working with their health care team to create and stick with a plan that may include medication, symptom monitoring and lifestyle changes.
The Stony Brook Difference
As a patient at the Heart Failure and Cardiomyopathy Center, you benefit by having the expertise of heart specialists at Stony Brook Heart Institute who collaborate to bring you advanced cardiac care. The Center is widely recognized for our commitment to our patients, as evidenced by both the Advanced Certification Award in Heart Failure from The Joint Commission and the 2023 Get With The Guidelines® — Heart Failure Gold Plus Quality Achievement Award from the American Heart Association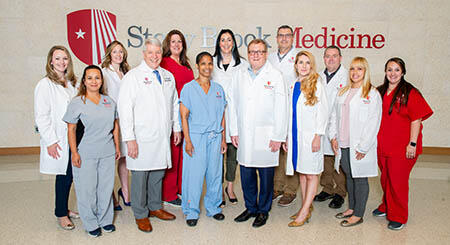 Put Your Heart Health First
If you are at risk or if someone in your family has a heart condition, it's important to schedule a visit with a cardiologist for preventive care. Our cardiologists can help you improve your heart health and/or prevent the progression of cardiovascular disease with a comprehensive heart disease risk assessment and treatment options.
Do something good for your own heart health by taking a free heart health assessment now.
For information and appointments