If you have a heart attack or a cardiac arrest, an accredited Chest Pain Center is ideally the place where you want to receive treatment. Stony Brook is the only hospital on Long Island to have achieved the Chest Pain Center with Primary Percutaneous Coronary Intervention (PCI) & Resuscitation designation from the American College of Cardiology (ACC) and the only facility on Long Island to have received the past two back-to-back accreditations.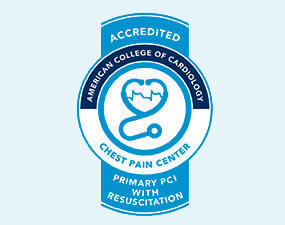 Stony Brook's Chest Pain Center
Timing is everything when it comes to your heart. Knowing which hospital is best equipped to care for you if the unthinkable happens could quite possibly save your life.
Why Chest Pain Center Accreditation Matters
This accreditation means that Stony Brook is optimally equipped, trained and staffed to care for those during or after a heart attack (when one of the coronary arteries is blocked and the heart muscle is robbed of its vital blood supply) or a sudden cardiac arrest (when the heart malfunctions and suddenly stops beating). Patients arriving at Stony Brook University Hospital's ER with symptoms of a cardiac emergency are treated according to quality-of-care measures that are proven to achieve better patient outcomes.
"Our ACC accreditation reaffirms that Stony Brook provides the most advanced and timely evidence-based heart attack or cardiac arrest care to the patients in our community," says Robert T. Pyo, MD, Director, Interventional Cardiology; Medical Director, Structural Heart Program and Associate Professor, Renaissance School of Medicine at Stony Brook University. "Only through the exceptional skill of our cardiac and emergency services teams are we able to implement the guidelines established by the ACC to offer the best quality emergency cardiac care available anywhere."
What is Primary PCI with Resuscitation?
PCI (primary percutaneous coronary intervention), also called angioplasty, is a non-surgical procedure used to open blocked coronary arteries before, during or after a heart attack or cardiac arrest. "Primary" PCI means that angioplasty is the key specialized treatment utilized for severe heart attacks. The term "resuscitation" refers to a state-of-the-art body-cooling therapy shown to improve a patient's outcomes after cardiac arrest.
Hospitals that have earned this designation have primary PCI with resuscitation available 24-hours-a-day, every day.
Making Every Minute Count
Using our "Code H" protocol, Stony Brook has achieved a "door-to-balloon" time — the amount of time between a heart attack patient coming through the door and the blocked arteries being cleared by a balloon-tipped catheter (angioplasty or PCI) — of just 54 minutes; 36 minutes sooner than the 90 minutes or less specified in American Heart Association guidelines.
"If you're having a heart attack, every second counts," says Yvonne Leippert, RN, MS, CCRN, Stony Brook Heart Institute's Chest Pain Coordinator. "The key is to get treated as quickly as possible so there is less chance of heart muscle damage. Few hospitals can offer the diagnostic testing and the complete array of on-site interventional options that are available at Stony Brook." In addition, for patients suffering from a cardiac arrest, Stony Brook University Hospital provides a robust hypothermia program that lowers a patient's body temperature allowing for the best possible chance of meaningful recovery.
"By earning this distinguished chest pain center accreditation here at Stony Brook, we're demonstrating to Long Island that we provide advanced cardiac care, even in the most complex cases," explains Hal Skopicki, MD, PhD, Co-Director, Stony Brook Heart Institute; Chief, Cardiology; and Ambassador Charles A. Gargano Chair, Cardiology, Renaissance School of Medicine at Stony Brook University. "We offer everything our patients need to be taken care of efficiently and effectively, including procedures available only at select centers throughout the country. It is crucial to immediately seek care from the most skilled facility available. For our community, I'm very pleased and proud to say, that's Stony Brook."
Learn more about what it means to be the region's only accredited Chest Pain Center.
Learn more about early heart attack symptoms.
Put Your Heart Health First
If you are at risk or if someone in your family has a heart condition, it's important to schedule a visit with a cardiologist for preventive care. Our cardiologists can help you improve your heart health and/or prevent the progression of cardiovascular disease with a comprehensive heart disease risk assessment and treatment options.
Do something good for your own heart health by taking a free heart health assessment now.
For information and appointments