Meet Anthony Martinez
Anthony Martinez is a can-do guy, an ex-Marine who raised a family and started his own successful businesses. But when multiple health conditions meant he was not eligible for catheterization to clear his blocked coronary arteries, the situation didn't look good.
After the procedure, Anthony's arteries were clear and he's back to living life again.
For information and appointments: Call (631) 44-HEART (444-3278)
A High-Risk Cardiac Catheterization
Then Anthony met Stony Brook Medicine interventional cardiologist Robert Pyo, MD. Together they accomplished what some thought couldn't be done. A high-risk cardiac catheterization was performed on Anthony, at Stony Brook University Hospital, using the protected percutaneous coronary intervention procedure (PCI). After the procedure, Anthony's arteries were clear and he's back to living life again.
Anthony and his family had spoken to "quite a few other doctors, and none of them would do the heart surgery," he recalled, because of his medical history – heart failure, renal disease (he is on dialysis), chronic obstructive pulmonary disease, diabetes and high blood pressure. Anthony was also 87 years old. "I was in limbo, not really thinking too much about the future," he said. "I had really written off this life." Then Dr. Pyo reviewed his medical records. "He told me that it wouldn't be easy, but if I was up to it, he could perform this complicated procedure," Anthony said.
The protected PCI is helpful for patients who have complex cardiac disease and are considered "inoperable" because of additional complicating conditions. During this procedure, a pump temporarily takes over pumping blood for the heart so it won't become stressed while coronary artery blockages are repaired. Anthony tolerated the procedure well, and he received six stents that release medication into his arteries to prevent blockages from forming again. After recovering in Stony Brook's Cardiac Intensive Care Unit, where he was cared for by the Stony Brook Medicine cardiology team, Anthony spent some time in rehabilitation and now is back home with his family.
A Team with One Mission
Anthony's experience in the Aircraft Overhaul and Repair Squadron at Marine Corps Air Station Cherry Point, North Carolina, contributed to his feeling that he and Dr. Pyo were a team that could accomplish their mission. When hard jobs have to get done in the service, Anthony said, "we used to call on one person and say, 'He's the man.' Well, Dr. Pyo had gumption. He took on the battle for me, and he was a lifesaver. So Dr. Pyo's the man."
Anthony was pleasantly surprised by the care he received in the first few days after the PCI procedure. Every morning, Dr. Pyo sat by his bedside and talked. "About how I felt, and everything else," Anthony said. The visits kept him in good spirits. "Dr. Pyo is a very nice and caring person," he said. "I would recommend him to anybody."
Surrounded by Family 
These days, Anthony enjoys spending time with his family. He and his late wife, Luzleida, had been married for 65 years and had four children, Steven, Cynthia, Gregory and Gale. Today, Anthony is surrounded by his eight grandchildren and three great grandchildren. "The kids are all doing really well," Anthony said. "They keep me busy and keep me smiling. I am very fortunate." Anthony just celebrated his 90th birthday with his family in September of this year, and his fourth grandchild is due in January.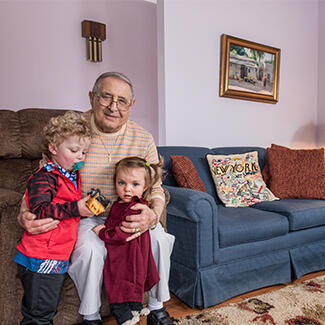 Not too long ago, it didn't seem like there was much life to live. Then Anthony found out that there was a way to have the catheterization his heart desperately needed. "Boy, I grabbed the opportunity," he said. "And now I'm looking forward to the next few years, which I didn't do before."
The Stony Brook Difference
Stony Brook University Hospital (SBUH) has been named one of America's 100 Best Hospitals™ for 2021 in coronary intervention and cardiac and stroke care by Healthgrades, the first organization in the country to rate hospital quality based on actual clinical outcomes, placing SBUH in the top two percent of hospitals nationwide.
Working in close partnership with our high-volume emergency rooms, the Stony Brook Cath Labs evaluate more than 5,000 patients and perform more than 1,500 interventional procedures, annually.
Testing and treatments are delivered by medical faculty physicians, making Stony Brook the only academic-based facility of its kind in Suffolk County.
Our Cath Labs offer 24/7 accessibility.
Put Your Heart Health First
If you are at risk or if someone in your family has a heart condition, it's important to schedule a visit with a cardiologist for preventive care. Our cardiologists can help you improve your heart health and/or prevent the progression of cardiovascular disease with a comprehensive heart disease risk assessment and treatment options.
Do something good for your own heart health by taking a free heart health assessment now.
For information and appointments