Our ventricular assist device (VAD) team is dedicated to improving quality of life in patients with advanced heart failure.
A ventricular assist device or VAD is a surgically implanted mechanical device that supports the pumping function of the heart. It can be used as a temporary measure (for instance, prior to a heart transplant) or as lifelong support for those who are not eligible for transplantation for a variety of reasons.
For patients who meet the right criteria, these devices can dramatically improve quality of life, help maintain or improve organ function, reduce symptoms such as breathlessness and fatigue – and prolong life.
VAD Program Locations
Stony Brook
Commack
Would a VAD Help Your Condition?
• Do you require frequent heart failure medication changes because your heart failure is getting worse?
• Have you had multiple hospitalizations for heart failure?
• Have you not felt better despite the placement of a biventricular pacemaker?
If so, you may benefit from the implantation of a ventricular assist device. At Stony Brook, we implant the latest version of ventricular assist devices, including the HeartMate IIITM.
Treatment Approaches
Transplantation. When heart disease and symptoms are severe, patients may qualify for heart transplantation. To be considered for transplantation, patients must be first evaluated and then accepted for the transplant waiting list. The Heart Failure and Cardiomyopathy Center can facilitate your evaluation and referral through its relationships with the transplant centers at New York-Presbyterian, Montefiore Medical Center, Mount Sinai Medical Center and Westchester Medical Center.
Bridge to Transplantation. There are far fewer donor hearts available for transplantation than there are patients who might benefit from them and living with advanced heart disease. The wait for transplantation can be quite long and a patient's condition may worsen at any time. In some cases, patients who become unstable or are not doing well on medical therapy can be treated with the placement of a VAD until it is eventually replaced by a donor heart.
Destination Therapy. For patients with advanced cardiac disease who may not qualify for a transplantation for reasons of age or other organ disease, the placement of a VAD for lifelong support for their failing heart offers the potential for a markedly improved quality of life and longevity when compared to medical treatment alone.
Bridge to Recovery. In rare instances, patients who receive a ventricular assist device can experience improvement in heart function to the point where removal of the device, with ongoing improved functioning of their own heart, becomes possible.
Your Ventricular Assist Device (VAD) Team
The VAD team, together with the Heart Failure and Cardiomyopathy Center, will work closely with you and your physicians to develop a tailored treatment plan for optimal management of advanced heart failure. The care of our patients extends well beyond surgery. Monitoring and follow up is lifelong by our dedicated VAD team:
Hal Skopicki, MD, PhD, Co-Director, Stony Brook Heart Institute and Chief, Cardiology
Marc Goldschmidt, MD, Director, Heart Failure and Cardiomyopathy Center and Medical Director, VAD Program
Allison J. McLarty, MD, Surgical Director, VAD Program
Edlira Tam, DO, Associate Medical Director, VAD Program
Kristine Hanni Jang, MD, Cardiologist
Jillian Fitzgerald, MSNEd, BSN, RN, Lead VAD Coordinator
Peter Reilly, NP, VAD Coordinator
Anne Marie Berggren, RDN, MS, CDN, CNSC, Clinical Nutritionist
Emily Cullen, LCSW, Social Worker
Anthony Caracciolo, LCSW, Social Worker
Philip Travaglia, RN, Clinical Documentation Specialist
Daphne Caceres-Paladino, Heart Failure and VAD Program Administrative Assistant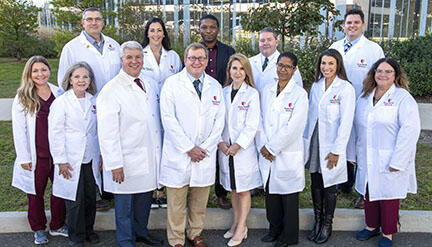 Long Island's First and Most Experienced VAD Program 

A testament to the high-quality care of our patients, Stony Brook's VAD program has been continuously certified by The Joint Commission since 2011. The VAD program recently celebrated providing over 13 years of care to its patients.
Clinical Trials 
The Heart Failure and Cardiomyopathy Center offers the most up-to-date clinical trials that have the potential to greatly improve the care of patients with heart failure. If you are interested in participating, we can help you decide if there is a clinical trial that is right for you.
For more information
To schedule a consultation with a heart failure specialist or for evaluation for a ventricular assist device, call our VAD coordinator at (631) 444-LVAD (5823).
"Meet" Some of Our Patients
Ed received a VAD implant four years ago. Today, he is busy living the life he loves: spending time with family, walking, gardening, cooking, power-washing the house — so far, two porches and a deck. Read more. 

Joseph's VAD served as a 'bridge to transplant' — a lifesaving intervention that allowed him to become eligible to receive a new heart on his 58th birthday. Read more.
For Patients: Frequently Asked Questions (FAQs)
For Physicians: Frequently Asked Questions (FAQs)