Meet John Tanzi
John Tanzi survived one of the most serious heart conditions a person can have – a catastrophic tear of his aorta. He credits his recovery to the expertise of the Stony Brook Medicine Aortic Center, where he became the first person on Long Island to receive a new stent graft device that had just been approved for the treatment of aortic dissections.
John Tanzi survived one of the most serious heart conditions a person can have — a catastrophic tear of his aorta.
The aorta is the main artery carrying oxygenated blood from the heart through the chest and abdomen. When it tears, the situation is a medical emergency. Stony Brook's Aortic Center, led by Apostolos Tassiopoulos, MD, Thomas Bilfinger, MD, and Shang Loh, MD, is Suffolk County's only facility that offers diagnosis and treatment for all aortic diseases.
Rapid Diagnosis and Treatment
On a recent winter morning, John was walking downstairs at his home in Patchogue when he stumbled and his right leg went numb. His wife Angela rushed him to Long Island Community Hospital, near their home. "They told my wife right away, 'We have to get him to Stony Brook if he's going to make it,'" John recalled. Stony Brook dispatched an ambulance for John and brought him to Stony Brook University Hospital under a "Code Aorta" protocol for rapid diagnosis and treatment.
Emergency Repair of John's Ascending Aorta
Dr. Tannous, Chief of the Division of Cardiothoracic Surgery and Co-Director of the Stony Brook University Heart Institute, and Dr. Loh, Vascular Surgery Program Director and Associate Director of the Aortic Center, teamed up for the emergency repair of John's ascending aorta — the part of the aorta that immediately exits the heart and carries blood to the brain and arms — while keeping blood flow to the rest of his body.
"Basically, his aorta had split in half, and that's a dangerous situation," Dr. Tannous said. "When the first part of the aorta (exiting the heart) tears, the patient has a high risk of dying within hours."
John recalls now that when he woke up in the hospital, a week after being brought there with an aorta dissection, he met Dr. Tannous and Dr. Loh for the first time. "They're both good guys," he said. "They're very intelligent men and they know their jobs." After the surgery, "Everyone monitored me very carefully," John said.
The surgery was done in one of Stony Brook's hybrid operating rooms. These rooms, twice the size of a traditional operating room, have the usual surgical equipment plus sophisticated, real-time imaging systems mounted on a robotic arm that allow for precise guidance, allowing Stony Brook surgeons to perform complex procedures with greater safety and accuracy.
Preventing Future Risk 
There would be more surgery to come. A follow-up CT scan revealed that parts of John's aorta in the chest and abdomen would put him at future risk for life-threatening complications because of the extent of the dissection, the shape of the tear and the size of his aorta. In preparation for the surgery to stabilize and heal John's aorta, Dr. Loh performed a type of bypass procedure, called a carotid-subclavian bypass, routing blood from one of the neck arteries to the left arm.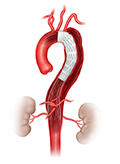 A New Stent-Graft System for Aortic Dissections
John's aorta dissection coincided with the release of a new stent-graft system designed specifically for aortic dissections. For the first time, using this stent, surgeons now can treat the entire aorta after a dissection instead of just the upper portion as they did previously. "Before this device was approved, we only had stent-grafts that were originally designed to treat aneurysms – blood-filled bulges that result from weakening in a blood vessel's wall," said Dr. Loh. "We co-opted those stents into treatment for dissection, but the treatment was not ideal because we couldn't treat the lower portions of the aorta due to the numerous branch vessels present."
With the new device, the stent can be extended all the way down into areas that previously couldn't be treated.
"Now we're able to more completely treat the entire aorta after a dissection," Dr. Loh said. "This allows us to prevent post-dissection complications, which include stroke, paralysis, aneurysm and even death."
Dr. Loh extended the stent to the point of John's aorta where it splits to each leg. After the surgery, John was discharged home in a few days, where the open surgical repair would have kept him in the hospital for two to three weeks.
Recovering Well and Looking Forward
Today John is recovering well from that surgery. He has some back and shoulder pain, and walks with a cane, but he is steadily improving every day. He is looking forward to more good times with his family, including his daughter Valerie and his three-year-old grandson Anthony, and attending the wedding of his son Michael, in the fall. "There's no way I want to miss this wedding," he said. At age 61, John's got a lot to look forward to.
John said he is grateful to his Stony Brook team. "I really have to compliment Stony Brook," he said. "It's like they gave me a reboot or reset. They got me going, and I feel pretty good — everybody did a wonderful job."
What Makes the Stony Brook Aortic Center Different?
Our Aortic Center consists of a team of specialists from cardiac imaging, cardiovascular medicine, anesthesiology, cardiothoracic surgery and vascular surgery. "We collaborate with each other, and with the patient's referring physician, to find the most focused and cutting-edge solution to a patient's aortic disease," said Apostolos Tassiopoulos, MD, Chief, Vascular Surgery; Director, Stony Brook Vascular Center and Co-Director, Stony Brook Aortic Center. "And patients don't have to travel far to receive advanced detection and treatment — the Stony Brook Aortic Center is Suffolk County's only facility offering patients comprehensive and coordinated care for the full range of aortic conditions."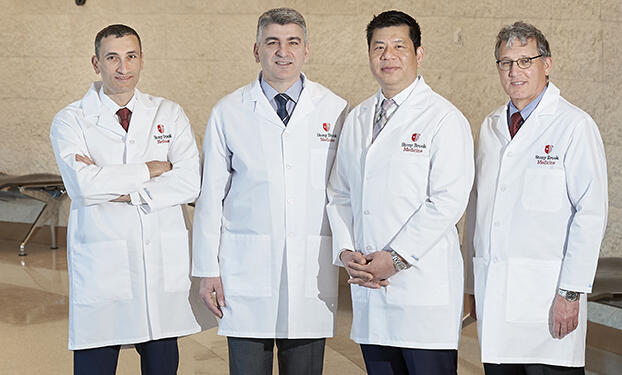 Henry Tannous, Co-Director, Stony Brook University Heart Institute; Chief, Cardiothoracic Surgery;
Apostolos Tassiopoulos, MD, Chief, Vascular Surgery and Director, Stony Brook Vascular Center and Co-Director,
Stony Brook Aortic Center; Shang Loh, MD, Co-Director, Stony Brook Aortic Center; and
Thomas Bilfinger, MD, ScD, Director, Thoracic Surgery and Co-Director, Stony Brook Aortic Center

Stony Brook Medicine Aortic Center
For elective transfer and outpatient referrals of patients, call the Stony Brook Aortic Center:
(631) 444-2683
For immediate transfer of patients, call the Stony Brook University Hospital EMS Transfer Center:
(631) 444-1911