Meet Scott Mandia
The last thing fitness buff and avid runner Scott Mandia, then 55, had on his health radar was heart disease. But, as Scott would soon learn, that was all about to change...
"I like to think this wake-up call of mine was intended to have a positive impact on others." — Scott Mandia
For information and appointments: Call (631) 44-HEART (444-3278)
"It Must Be Stress..."
"So it was either the end of September or the beginning of October, around midnight, that I woke up with what I thought was severe heartburn," recalls Scott, a professor of physical sciences at Suffolk Community College and a climate change expert and author. "I also experienced some fleeting chest pain, but I tend toward anxiety and chalked it up to recent stress."
Over the next couple of months, though, Scott's heartburn seemed to morph into more of a "squeezing sensation" in his chest. When he would run or even when just climbing stairs, the sensation would ramp up and then abruptly cease as soon as the Miller Place resident, married to Kelly and dad to two boys, Shane, 16; and Trevor, 13; stopped moving.
"Soon, I couldn't really expand my chest," said Scott. "At this point, Kelly and I realized that this was no ordinary heartburn. Something wasn't right and I made an appointment with our primary care doctor to see what was going on."
Connecting the Dots
Testing, including an EKG and echocardiogram, took Scott from his family doctor to a cardiologist and while it was determined that he was in excellent health overall, his doctors found reason to be concerned about some cardiovascular issues. It was recommended that Scott make an appointment for a cardiac catheterization (cath) — a non-surgical procedure used to diagnose and treat coronary artery disease.
"And, boom, there it was," said Scott. "Suddenly, all the dots connected. It was my heart that was the problem. Kelly and I reflected back and said, 'Oh my God. How could we have missed it?'"
Scott chose Stony Brook University Hospital's Cardiac Cath Labs for his procedure. "Based on reputation, positive past experience, and, for me, as a scientist, the realization that if I'm in serious trouble, a medical research hospital is where I want to be," he said.
Rapid Diagnosis and Treatment
The heart catheterization, performed on December 19 by Robert Pyo, MD, Director of Interventional Cardiology and Director of the Stony Brook Cardiac Catheterization Laboratories, revealed a 99 percent blockage of the left anterior descending (LAD) coronary artery, the key artery that moves blood to the heart.
Scott received a drug-eluting stent to the LAD — a tiny metal tube coated with a medication to clear the artery and keep it clear — and a percutaneous coronary intervention (PCI), also called a coronary angiogram, to the first diagonal artery — a stent with a balloon attached to open up a clogged blood vessel.
The procedure took about two hours; Scott was sedated but awake. There were no complications, and he went home the next day.
"Scott and I simply cannot say enough about Dr. Pyo, the nurses, and the entire staff at Stony Brook," said Kelly. "Everyone was amazing. We felt we were not only at the best place, but with the best people. Whatever the problem was, we knew they would fix it. And they did."
The "Widowmaker"
Dr. Pyo told Kelly and Scott that although Scott had no apparent heart disease risk factors he had been on the brink of a fatal heart attack. "If the LAD coronary artery is completely clogged, the heart can stop very quickly and because the survival rate is so low with this type of blockage, it has been nicknamed the 'Widowmaker,'" explained Dr. Pyo.
Paying It Forward
"The morning after my cath I told my wife, I feel better than you!" smiled Scott. "It's literally the best I've ever felt."
And Kelly has since gifted the couple with matching bracelets that say, Stronger with You. "We both wear these as a reminder that you just—you just never know what's going to happen," said Scott.
If you had asked him four months ago, "Have you ever worried about heart issues?" Scott would have laughed.
"The weirdest part is, and I hate to admit this because I feel like a total idiot saying so, but for about 15 seconds last fall, my left arm had gone numb and I actually thought to myself, maybe I'm having a heart attack. But then, of course, I thought, it can't be. I don't smoke, I exercise six days a week, I run marathons…"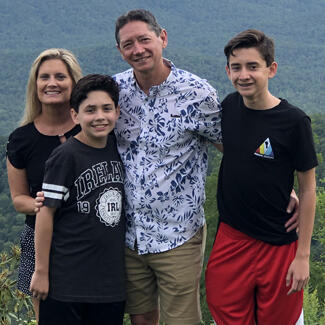 Scott with his wife, Kelly, and their two sons, Trevor and Shane.
Scott is back to running 40 miles per week. 
 
"I like to think this wake-up call of mine was intended to have a positive impact on others," said Scott. "In fact, my own dad is now going for a stress test and a friend of ours whose father had complained of symptoms similar to mine, suggested that he get them checked out—and his father wound up getting a quintuple bypass the next day.
"So I would say talk to your doctor about adding an EKG to your once-a-year physical exams," suggests Scott. "If it can happen to me, it can happen to anybody, because I'm the last person in the world this should have happened to.
"I hope I am sort of paying it forward, at least a little…"
The Stony Brook Difference
Healthgrades has named Stony Brook University Hospital as one of America's 50 Best Hospitals for Cardiac Surgery™, now for two years in a row, and one of America's 100 Best Hospitals for Cardiac Care™ for nine consecutive years. Stony Brook is one of only two hospitals in NYS to be named among America's 100 Best Hospitals for Cardiac Care for nine years in a row. 
Working in close partnership with our high-volume emergency rooms, the Stony Brook Cath Labs evaluate more than 5,000 patients and perform more than 1,500 interventional procedures, annually.
Testing and treatments are delivered by medical faculty physicians, making Stony Brook the only academic-based facility of its kind in Suffolk County.
Our Cath Labs offer 24/7 accessibility, so you can be treated without losing valuable, lifesaving time.
Put Your Heart Health First
If you are at risk or if someone in your family has a heart condition, it's important to schedule a visit with a cardiologist for preventive care. Our cardiologists can help you improve your heart health and/or prevent the progression of cardiovascular disease with a comprehensive heart disease risk assessment and treatment options.
Do something good for your own heart health by taking a free heart health assessment now.
For information and appointments