Meet Joseph Cerqueira
Joseph was diagnosed with severe heart failure after two heart attacks. At the same time, he discovered he had type 2 diabetes.
As a corporate chef who had been in the food industry for 40 years, Joseph Cerqueira knows how to manage what he calls "organized chaos" in the kitchen. But when his health condition became chaotic, Joseph turned to Stony Brook University Heart Institute for help.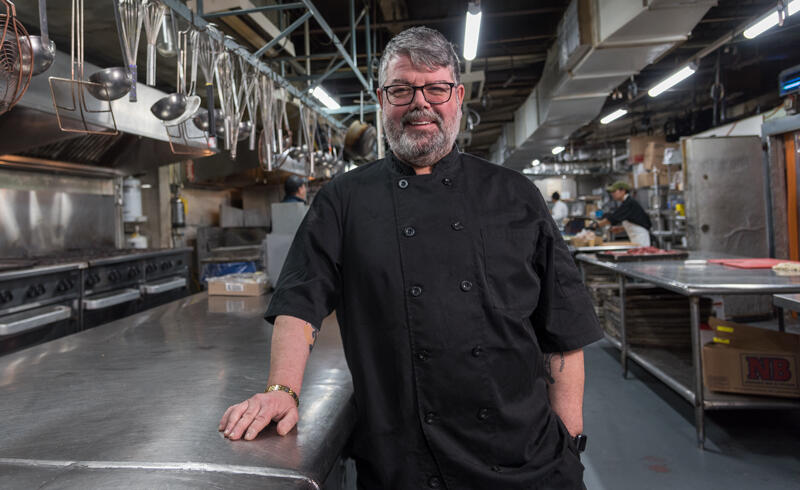 Joseph's incredibly active life had turned into constant fatigue and he often had to sit down and rest at work. "Then it started to become harder to go up the stairs. It became more difficult, and harder to breathe," Joseph said.
The advanced heart specialists at Stony Brook's Heart Failure and Cardiomyopathy Center optimized Joseph's medications and explained his options. "In one day, I got a bunch of news I didn't want to get," Joseph recalls. "But Stony Brook fixed me up."
A Lifesaving Intervention
Allison McLarty, MD, Surgical Director of the Heart Institute's VAD Program, performed surgery on Joseph to implant a ventricular assist device (VAD) in early 2017. The pump took over for his failing heart until he received a heart transplant on his 58th birthday ­— May 15 of 2018. Now, over four years later, Joseph is doing so well that he has been cleared for annual checks versus every six months.
"For Joseph's treatment of advanced heart failure, the VAD served as a 'bridge to transplant' — a lifesaving intervention that allowed him to become eligible to receive a heart transplantation," said Dr. McLarty. "The implanted VAD took over the pumping work of the heart, allowing Joseph to become stronger and physically better prepared to undergo heart transplant surgery."
Back to Work as Executive Chef
Joseph went back to work as Executive Chef at the catering facility Terrace On The Park, located in Queens. He supervised four kitchens that supplied meals for 11 catering rooms plus a penthouse. At the time, he described it as a hectic life, but one he loves. "I was ecstatic about getting back to work. For me, it was part of the healing process," Joseph said. "I wanted to work so I wouldn't be cooped up at home, staring at the walls." His active schedule is a long way from the fatigue he experienced before the VAD implant. "Now my quality of life is perfect. I still get tired and I know my limitations, but besides that I do whatever has to be done." Joseph has recently moved on to other projects, and is enjoying what he calls "semi-retirement."
Joseph is "extremely pleased" with the care he received from his surgeon Dr. McLarty; his cardiologist, Hal Skopicki, MD, PhD; and all the Stony Brook Medicine personnel he has encountered. "What can I say ­— they were more like friends or family," he said. "Everybody went the extra mile to make me comfortable and knowledgeable on how to adapt to every aspect of life with a VAD."
Life at Home
"The care doesn't end after a patient receives a VAD," said Dr. Skopicki, Chief of Cardiology, Stony Brook Heart Institute; Director, Heart Failure and Cardiomyopathy Center and Medical Director, VAD Program. "Our VAD team explains every nuance involved with the device so the patient has the knowledge and confidence to leave the hospital and adjust to life at home."

At work he supervises other chefs, but when he's at home in Coram, Joseph loves to do the cooking. He is originally from Portugal, but was trained in Italy in a variety of cuisines: classical Italian, Greek, Middle Eastern, German and Asian. "So pretty much I can dabble in most everything," he said. "But I prefer Northern Italian. It's awesome." He especially likes to cook polentas, anything with legumes, hearty soups and fish.

He enjoys spending time with his wife Ivone and daughter Kimberly. He and Ivone plan to fly home to Portugal soon, to visit relatives there. Once a month, Joseph attends the same support group for Stony Brook VAD patients that he went to when he was a heart patient. Now his purpose is to encourage others who are candidates for the device. It's his way of "paying back" for the new life he's been enjoying since his VAD implant and subsequent heart transplant, he said. "So when people see me they can say, 'Wow, this guy was once like me and now he's like this.' It gives people hope."
Learn why being Long Island's only continuously certified VAD program matters.
For an appointment with a heart failure specialist:
Call (631) 44-HEART (444-3278)
And do something good for your own heart health today:
Take a free heart health assessment now.