Helping patients in the treatment and management of angina episodes
Enhanced external counterpulsation (EECP) therapy increases the amount of blood returning to the heart, which helps supply more oxygen to its starved areas. With more oxygen available, the heart can function more efficiently, and angina symptoms, including chest pain, are lessened. With EECP, people experience less need for anti-anginal medicine, fewer symptoms and the ability to be more active. EECP is a noninvasive, outpatient treatment for people with chronic stable angina and anginal equivalents: chest pain or pressure, shortness of breath or fatigue.
EECP is recommended for patients who may have exhausted other treatment methods, such as bypass surgery, angioplasty, arterial stents or anti-anginal medications. EECP may provide benefits long after the treatment is completed, and some patients remain symptom-free for years. EECP may be repeated, as appropriate, for each patient.
How does EECP work?
EECP uses cuff-like devices on the upper and lower legs that increase the blood flow to the heart by timed squeezing with the heart cycle and rhythm. It may help the blood flow around blocked or partially blocked arteries by promoting growth of new vessels (collaterals) and rerouting blood through nearby branches (called collateral circulation).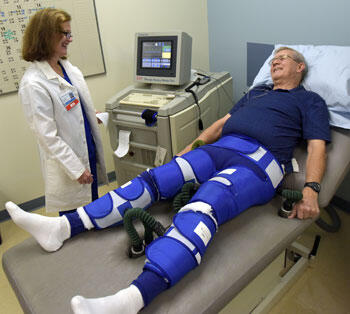 What to expect
EECP is conducted in a series of 35 one-hour sessions. Patients may complete up to two hours, as tolerated, per day to accommodate patients' schedules and needs. The patient lies on a special treatment bed. Three electrocardiography (ECG) electrodes are placed on the patient's chest and an oxygen sensor is placed on the patient's finger. EECP cuffs are placed around the patient's calves and thighs. The inflation and deflation occurs from the calves up to the thighs, matching to the rate and rhythm of the patient's heartbeat. The inflation occurs while the heart is filling and getting ready to pump, lasting a second or less. Just before the heart pumps, all the cuffs deflate at the same time.
Patients may be eligible for EECP therapy if:
Angina symptoms persist while on prescribed medications
Diseases or conditions would make them poor candidates for surgery
Heart problems persist despite previous bypass surgery or angioplasty
Failed stent procedures
EECP is NOT recommended for patients with:
Decompensated (a sudden worsening) heart failure
Uncontrolled blood pressure higher than 180/110
A heart rate higher than 120 beats per minute
Arrhythmias (abnormal heart rhythms) that interfere with the treatment
Current or recent deep vein thrombosis/ DVT (blood clot in leg)
Severe aortic insufficiency or an abnormal narrowing (stenosis) of the aortic valve opening (a result of a weak valve or a tighter, smaller valve)
Severe vascular disease in the leg vessels
Pregnancy
Post-treatment guidelines and care
EECP requires no recovery period. Patients may drive themselves to and from treatment. For patients needing transportation, a request can be sent to Suffolk County Accessible Transportation (SCAT) by calling (631) 738-1150. Our staff can assist, as needed.  
Complications from EECP can include:
Mild headache or dizziness – this is rare and can be a result of lowering of blood pressure during treatment.
Fatigue – this may occur the first week ­— the muscles are receiving an hour of exercise.
Muscle aches – this may occur after treatment, similar to after exercise; extra padding can be used for comfort.
Skin irritation or bruising – patients with diabetes occasionally have lower extremity skin issues. Extra padding usually alleviates the problem. When patients are taking Plavix®, Coumadin® and/or aspirin, while uncommon, they may experience some bruising. We make padding adjustments, as necessary.
Coumadin dose adjustments may also be needed.

Your EECP Team
William Lawson, MD, FACC, FACP, FCCP, FSCAI, FAHA, an interventional cardiologist, is Director, EECP Treatment Center, Professor of Medicine and Vice Chair of Medicine. Dr. Lawson has been recognized among "America's Top Doctors" and as one of New York Magazine's "Best Doctors." Among his many recognitions, Dr. Lawson has been honored for reducing "door-to-balloon" time, a lifesaving measurement for patients undergoing a heart attack.

Carolyn Percoco, RN, has 20 years of cardiac nursing experience at Stony Brook Heart Institute. For the past 17 years, she has dedicated herself to providing EECP therapy to patients who could benefit from this noninvasive treatment. She enjoys building the patient relationship and hearing about how EECP therapy has made a positive difference in the patient's day-to-day life.
For appointments, call:
(631) 444-EECP (3327 )

EECP Therapy is offered at:
Stony Brook Cardiology
200 Motor Parkway, Hauppauge